Măicănești Housing

first prize at timisoara architecture annual 2010


EU Mies van der Rohe award nominated



Bucharest, Romania

Client:
private
Project duration:
2007-2010
Gross area:
1.394,45 m²
The "Bucureștii Noi/Bazilescu" area is one of Bucharest's areas which remained up to the 90s outside the major urban transformation gestures which have redrawn the city. It is precisely this patriarchal atmosphere of the houses and of the gardens overrun by greenery and grape vines which gives most of today's special atmosphere of the streets behind the main arteries. Even under the current disparity in the neighborhood's development, housing still is clearly and strongly connected to the outside space: the courtyard, the street, the neighborhood.
Our project tries to bring in a monovolume - the "apartments building", characteristics from the local type of inhabiting (house + garden). All apartments open to both street and garden facades through large glazing. Whether they have their own courtyards (such as the ground floor apartments), loggias (1st and 2nd floors) or terraces (top floor), the interiors open towards the outside and the surroundings through wide, comfortable spaces. Except for one, all apartments develop on two floors, following the same attempt to allow total transparencies (no walls) in the living areas and, likewise, to bring to a flat as much house-comfort as possible. The common spaces (corridors etc.) are minimized for the interior space's benefit, while at the same time they allow a different layout of each apartment in the building's section, corresponding to its position within the building.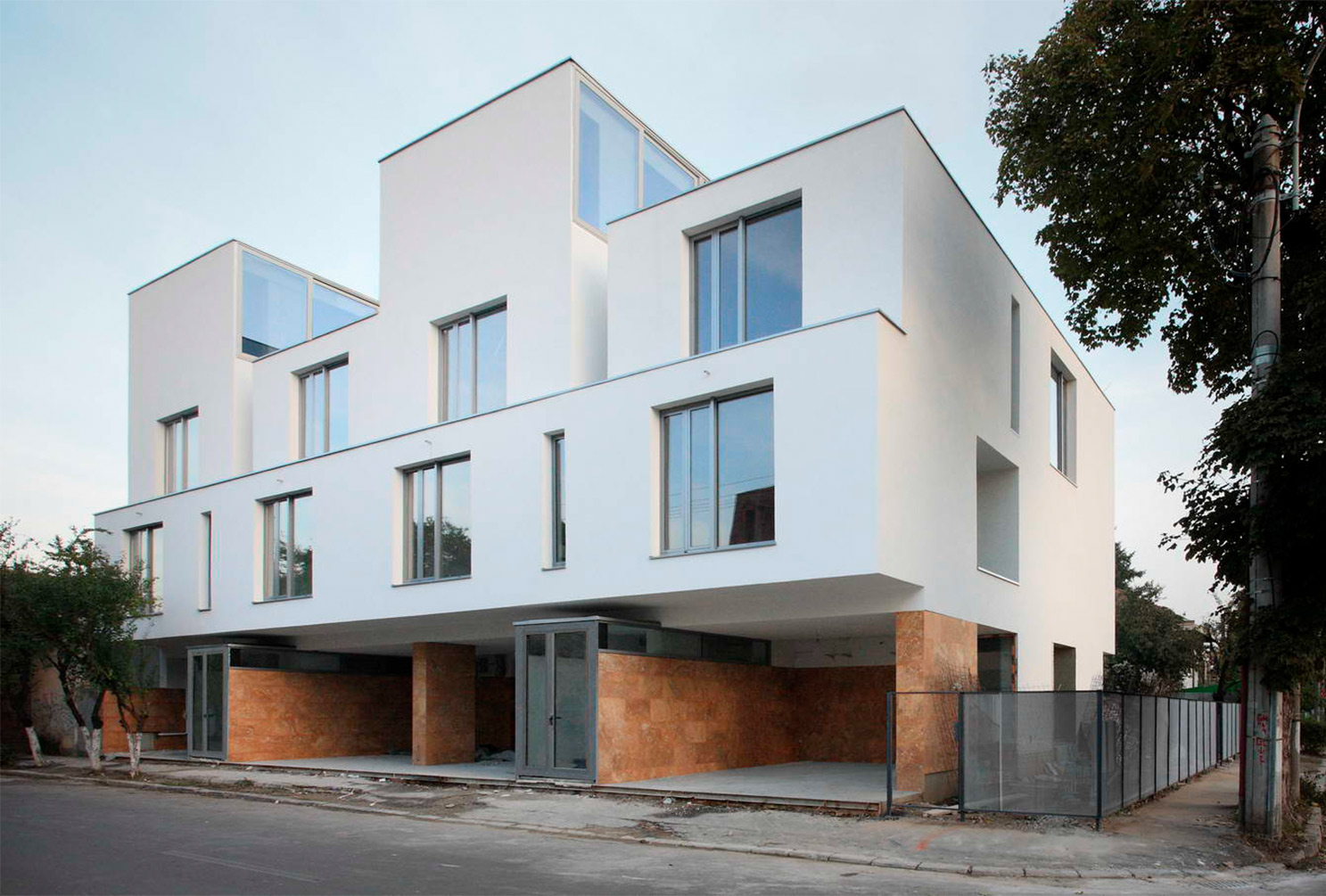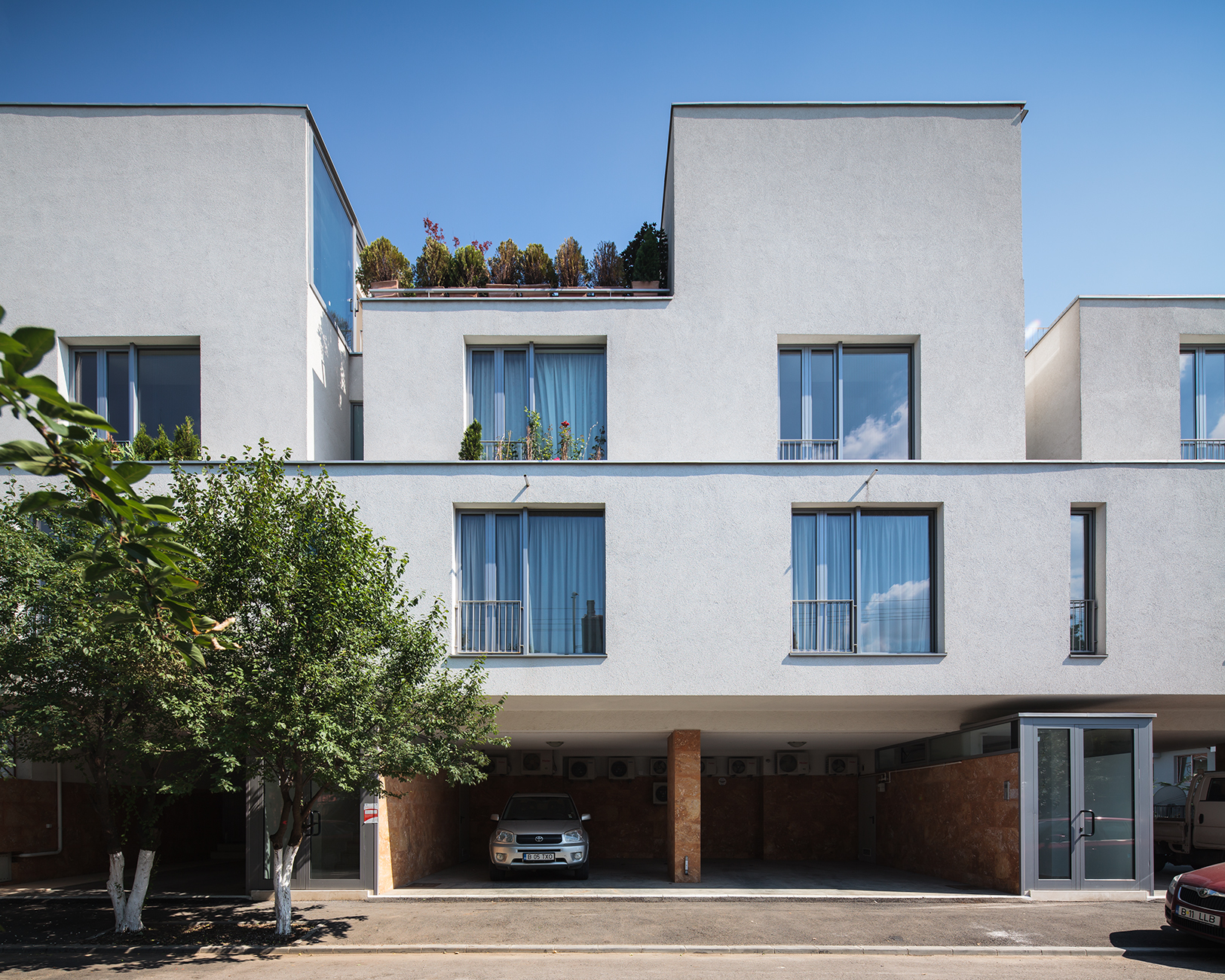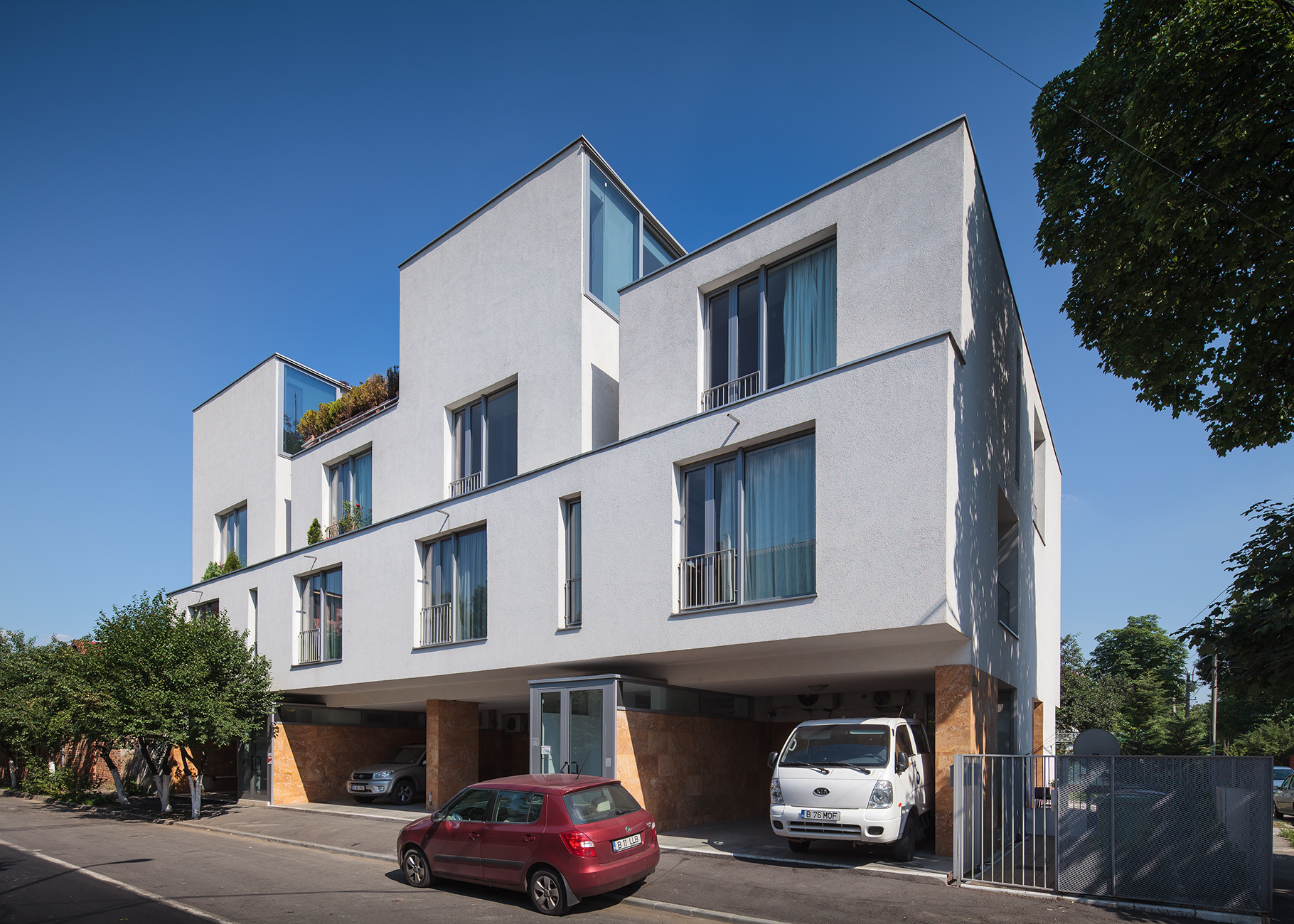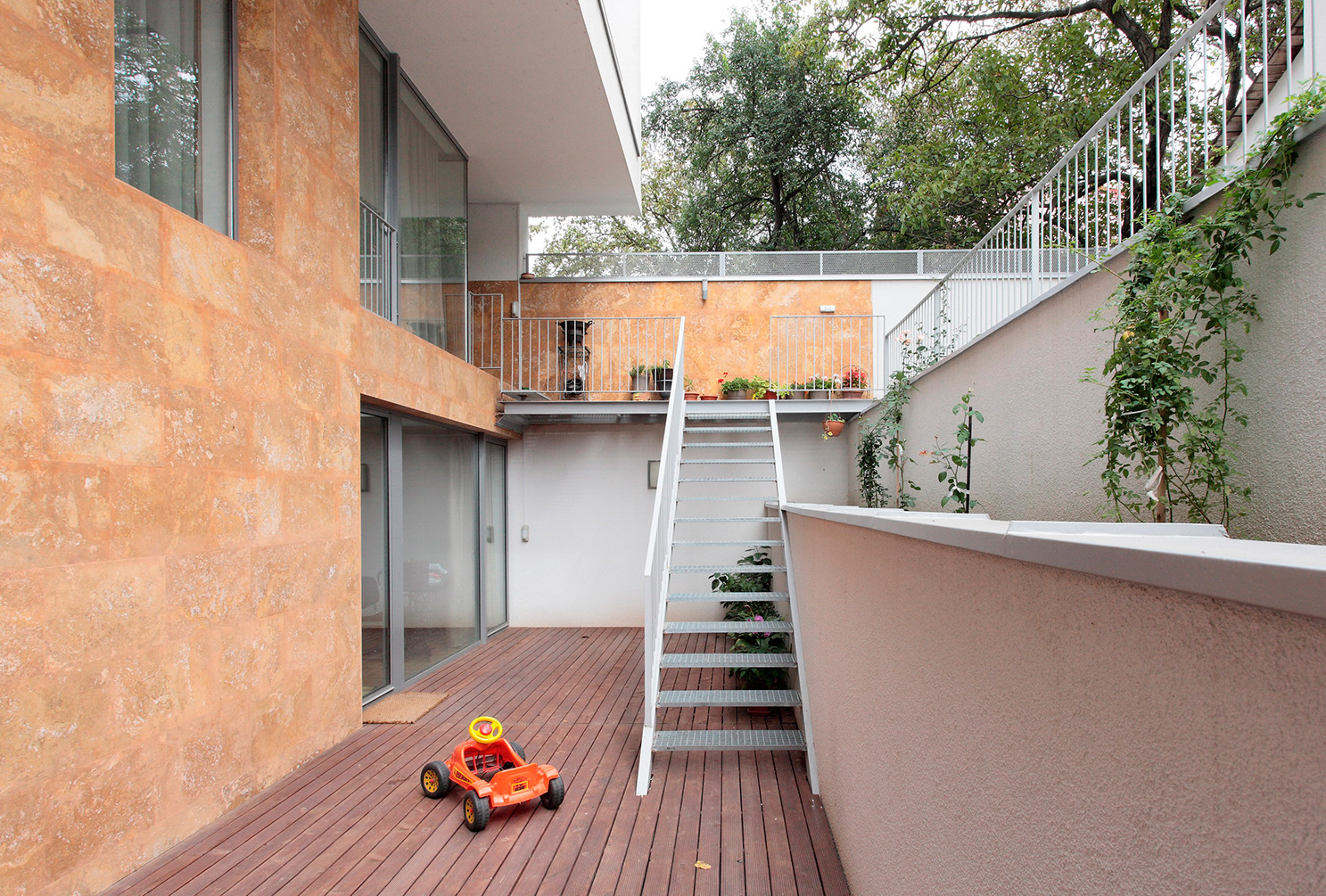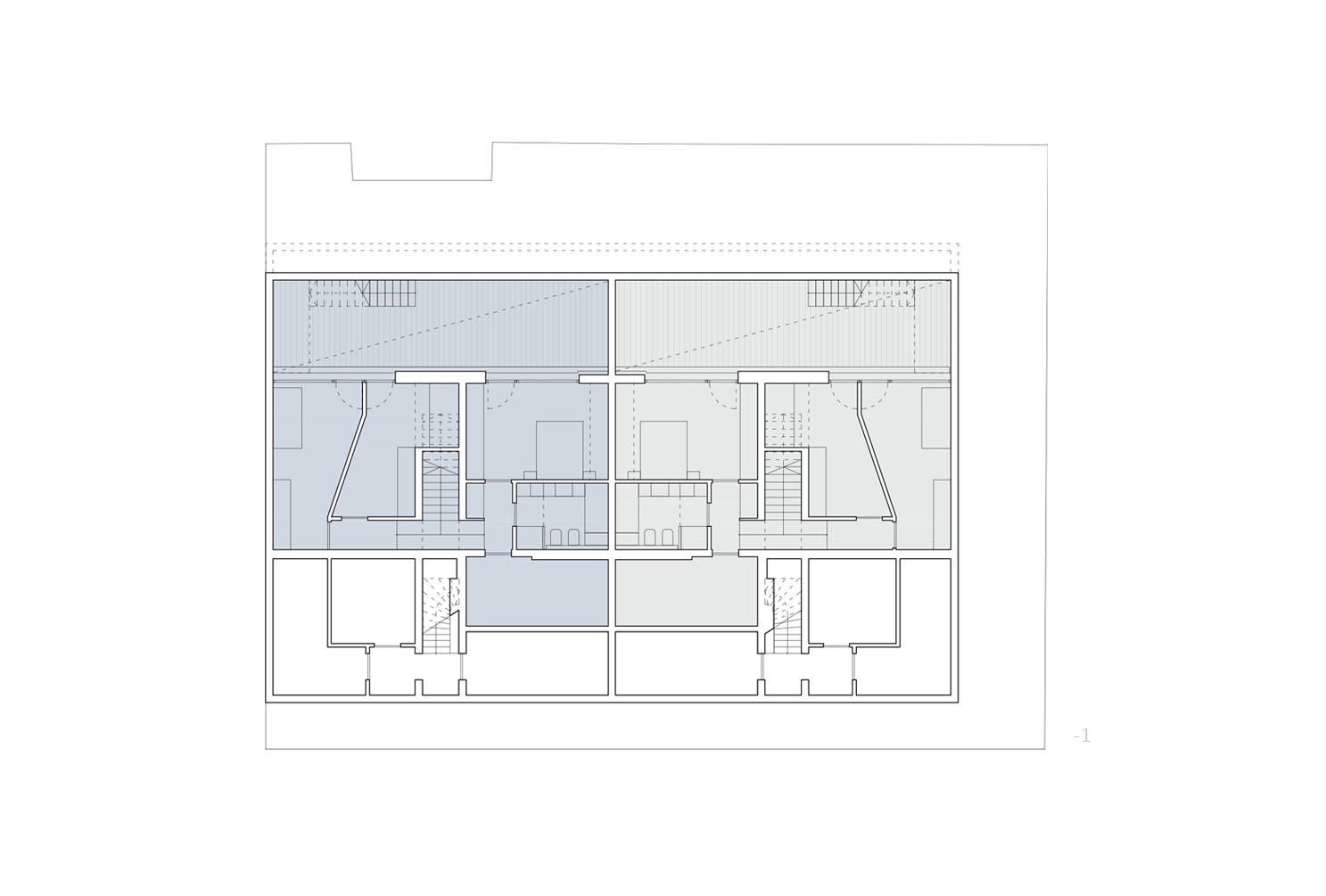 The building sits on a plot with a rather difficult geometry and cardinal orientation, part of an urban tissue with narrow lots with mostly two to four levels high dwellings, completing thus the front of one of the many heterogeneous but quiet streets behind the Banu Manta Boulevard blocks.

The vertical core, placed at the very heart of the terrain, articulates two apartment areas. Seeking a discreet dialogue with the neighborhood, the building gives a personal meaning to certain attributes of the latter - proportions, tipology of accesses, mediation elements, means of outlining the depth of the plots. The two apartments facing the rear, designed on two levels, close the visual perspective from the street, but maintain the transparency characterizing the surrounding area and offer a hint on the backyard they conceal.

Architects
Andrei Șerbescu
Adrian Untaru
Bogdan Brădăţeanu
Sebastian Şerban

Photographers
©Cosmin Dragomir